See ABM Job Order Status information instantly
With the help of our Community, Snapshot has developed and released a new ABM Job Order Status Dashboard and it's packed with real time Job Order information…
The new ABM Job Order Status Dashboard is now available for download. This Dashboard provides an excellent picture of Jobs status within the business. It's a "see all important information in one view" Dashboard and ABM customers love it.
The first thing a customer can do is filter jobs by Priority. Or you could view by phase – Jobs in progress, Jobs complete, First phase, Second phase – depending on how you capture your jobs within your Advanced Business Manager, Snapshot will grab the information and give it to you in a view that allows you to make the right Jobs decisions.
Underneath the Job Status Card (you can drill down on any of the cards) you have a data table in the ABM Job Order Dashboard – view instantly your Quote Cost, Actual Cost, and Actual Charge against each customer. Drill down on any Job if you like.
It's all about Job Profits right?
On the profit side of the Job Status Dashboard data table you see each Job's Quote Profit and Actual profit as well as the Work in Progress (WIP). There's no need to generate Job reports into Excel then sort and filter. With Snapshot, it's all there in one place on one Dashboard.
The ABM Job Order Status Dashboard also shows the profit by rep too. Clicking on a sales rep will filter to each job owned by each sales rip. Real time, instant, drill down Job information. You can allocate this Dashboard to the sales rep too, so they can access their own information via the Snapshot Web Dashboards module. See here to download this add on module at no extra cost.
Here's what the Job Order Status Dashboard looks like: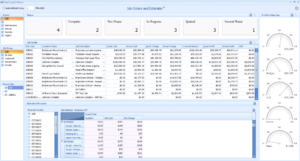 If you're interested in seeing this Job Status Dashboard for Advanced Business Manager (ABM) call or email us for a free demonstration.